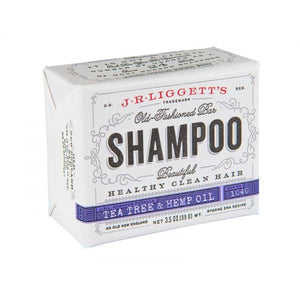 J.R.Liggett's Tea Tree & Hemp Oil Shampoo Bar
£9.99

£9.99
Tax included.
Shipping
calculated at checkout.
---
---
100% vegetable oil formulation lathers quickly, cleans well, and rinses out easily, leaving you with healthy, beautiful, and clean hair. It will not strip the natural oils from your hair (there are no detergents). For this reason, most people do not need a conditioner!
Unique, contemporary, and totally terrific, this fine formulation of our bar shampoo is based on the original formulation but has no added fragrance. It is designed for people who prefer none, or have allergies to deal with.
This formulation is very mild and soothing to the scalp. Tea tree oil has antiseptic properties to soothe an itchy scalp and helps prevent dandruff, psoriasis and head lice. Hemp Oil strengthen hair and stimulates growth to make it healthy and vibrant. There is no scent of added fragrance (essential oils) to this formulation.
Ingredients: Saponified Olive Oil, Coconut Oil, Castor Oil, Almond Oil, Tea Tree Oil & Hemp Oil
J.R.LIGGETT'S Tea Tree & Hemp Oil Formula is made from...
Olive Oil
The remarkable benefits of olive oil have been known for thousands of years. It is a natural conditioner that makes hair shiny and soft, and is loaded with antioxidants to keep your scalp healthy. Olive oil fights hair loss by helping control dandruff, fungi, and bacteria. It prevents hair follicle shafts from narrowing by preventing DHT hormone production, letting you hold onto your hair longer. It can also improve blood circulation to the scalp and stimulate hair follicles, giving you thicker, healthier strands.
Coconut Oil
The main component behind our luxurious lather, coconut oil works wonders on the hair and scalp. The fats present in coconut oil retain the moisture content of the skin, and help eliminate further losses. The antiviral, antibacterial, and antifungal properties found within protect from microbial infections than can enter through the pores. Coconut oil also contains Vitamin E, and is fantastic with skin disorders such as acne, psoriasis, and eczema.
Castor Oil
Native to Africa and India, this oil is well known for its anti-inflammatory and antibacterial properties. It accelerates blood flow to the scalp, thus increasing hair growth. It is very nourishing on the scalp and helps strengthen the roots with essential nutrients.
Tea Tree Oil
Native to Australia, the oil from the leaves of the tea tree is capable of killing stubborn germs and helps in clearing skin infections. Scabies and mites may be picked up from hospital stays, and the resultant scratching and itching can cause bleeding that can lead to infection. Tea Tree blends easily with the skin's oils and alters the chemical barriers of the skin thereby making it inhospitable for the growth of fungi and other organisms.
Hemp Oil
Hemp oil prevents water loss by injecting moisture into the hair and scalp, and can enhance hair growth. It is able to provide essential proteins during hair growth effectively by also improving blood circulation of the scalp.
Almond Oil
A great source of vitamins A, B, and E, almond oil contains high levels of proteins that rejuvenate dull, dry hair. It is very moisturizing and works wonders for those with itchy, dry skin, and split ends. Almond oil is very healing and soothing and makes hair strong and thick to help combat hair loss, and even offers protection against harmful UV radiation.
---
We Also Recommend