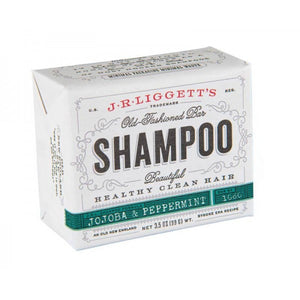 J.R.Liggett's Jojoba & Peppermint Oil Shampoo Bar
£9.99

£9.99
Tax included.
Shipping
calculated at checkout.
---
---
100% vegetable oil formulation lathers quickly, cleans well, and rinses out easily, leaving you with healthy, beautiful, and clean hair. It will not strip the natural oils from your hair (there are no detergents). For this reason, most people do not need a conditioner!
Jojoba is ideal to hydrate skin and hair as it mimics the bodies own natural oils and contains vitamin C & B, vitamin E, copper, and zinc which help to strengthen hair and reduce hair loss. Peppermint Oil is added for its antiseptic and antimicrobial properties, which help to cool the scalp, eliminate dandruff and fight headlice. Peppermint Oil relieves scalp irritation, dry scalp, stimulates hair growth, and give hair a healthy shine.
Jojoba Oil is an amazing primary ingredient that we use in our Jojoba & Peppermint Shampoo. Many scalp related problems are caused by a hardened build-up of sebum that clogs the hair follicles and may cause some types of scaling. If this hardened build-up is not removed, it can eventually obstruct the hair follicle's ability to function properly, which can lead to a loss of the hair shaft, and ultimately, death of the follicle. Jojoba rapidly penetrates down to the scalp and hair shaft, and readily loosens and dissolves this hardened build-up. Jojoba Oil leaves the scalp and hair follicles clean and free to continue their normal function.
Jojoba Oil helps promote healing of the skin in many ways. Native Americans have long used jojoba oil to help heal sores and wounds. It actually discourages the growth of some bacterial and fungal microbes that attack the skin. In addition, the chemical composition of jojoba closely resembles that of the skin's natural sebum, so it is easily absorbed and rarely causes allergic reactions, even in the most sensitive individuals.
Jojoba oil is actually composed of liquid wax esters rather than oil. The body's natural sebum also contains wax esters, which act as a sort of natural moisturizer and environmental barrier for the skin. However, wax ester production steadily decreases with age, causing the skin to appear dull and emphasizing wrinkles; a reduced ester content in the skin can also lead to the development of conditions such as psoriasis, dandruff, and rosacea.
Jojoba oil can prevent the skin from becoming too oily. Because the structure of jojoba oil so closely resembles natural sebum, it can actually trick the skin into producing less natural sebum, which, unlike jojoba, can clog pores. Jojoba oil may help treat acne, both by reducing sebum production and by protecting the skin from harmful bacteria. Peppermint Oil is added to stimulate and invigorate the scalp. It is also used to relieve skin irritation, dermatitis, acne and itchiness and also helps to reduce skin redness, where inflammation is present, while at the same time having a cooling action.
INGREDIENTS: Saponified Olive Oil, Coconut Oil, Castor Oil, Jojoba Oil, Almond Oil. Essential Oils – peppermint Oil
MADE IN THE U.S.A. WITH ALL NATURAL, SAFE, INGREDIENTS
Olive Oil
The remarkable benefits of olive oil have been known for thousands of years. It is a natural conditioner that makes hair shiny and soft, and is loaded with antioxidants to keep your scalp healthy. Olive oil fights hair loss by helping control dandruff, fungi, and bacteria. It prevents hair follicle shafts from narrowing by preventing DHT hormone production, letting you hold onto your hair longer. It can also improve blood circulation to the scalp and stimulate hair follicles, giving you thicker, healthier strands.
Coconut Oil
The main component behind our luxurious lather, coconut oil works wonders on the hair and scalp. The fats present in coconut oil retain the moisture content of the skin, and help eliminate further losses. The antiviral, antibacterial, and antifungal properties found within protect from microbial infections than can enter through the pores. Coconut oil also contains Vitamin E, and is fantastic with skin disorders such as acne, psoriasis, and eczema.
Castor Oil
Native to Africa and India, this oil is well known for its anti-inflammatory and antibacterial properties. It accelerates blood flow to the scalp, thus increasing hair growth. It is very nourishing on the scalp and helps strengthen the roots with essential nutrients.
Jojoba Oil
Native to parts of Mexico and the Southwest of the United States, jojoba oil is extracted from the seeds of the jojoba tree. This powerful oil serves as a strong conditioner, and is equally effective at removing hair residues. It promotes skin healing, fights bacteria, and has even been shown to help stop balding.
Peppermint Oil
Peppermint relieves skin irritation, dermatitis, neutralizes the dryness of the scalp, and reduces skin redness. Plus, its fresh scent lifts our spirits and invigorates the scalp and skin.
Almond Oil
A great source of vitamins A, B, and E, almond oil contains high levels of proteins that rejuvenate dull, dry hair. It is very moisturizing and works wonders for those with itchy, dry skin, and split ends. Almond oil is very healing and soothing and makes hair strong and thick to help combat hair loss, and even offers protection against harmful UV radiation.
---
We Also Recommend