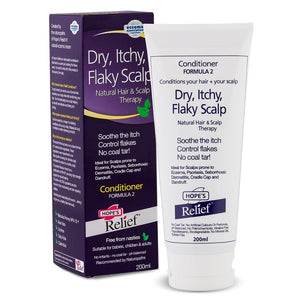 Hope's Relief Itchy, Flaky Scalp Conditioner
£18.49

£18.49
Tax included.
Shipping
calculated at checkout.
---
---
Hope's Relief Conditioner
A natural, gentle conditioner for sensitive scalps.
Hope's Relief Conditioner is made from the purest, natural ingredients, including organic, herbal extracts, vitamins and Manuka Honey, plus the gentlest conditioners to protect and soothe your scalp, giving your hair a healthy shine, body and manageability. 
Hope's Relief Conditioner has been formulated to penetrate and moisturise dry scalps and condition the hair shaft. There are no irritants, artificial colours and provides 5 active natural ingredients, all of which have been proven to help alleviate dandruff, eczema and psoriasis of the scalp. For maximum results the conditioner formula 2 should stay in contact with the scalp for at least 2-3 minutes and then rinsed off.
Hope's Relief Conditioner does not contain chemicals that may damage the hair and irritate the scalp. The conditioner is carefully formulated to protect the scalps natural oils and will not interfere with any colours or rinses you may have in your hair.  
Hopes Relief Conditioner has a dual purpose:
 Soothes and protects dry itchy scalps or flaky scalps prone to eczema, psoriasis or dandruff. 
 Cleans clean and condition the hair without irritating the scalp.
Pure and natural and gentle enough for daily use. Suitable for: infants, babies, children, adults.
Contains no 'nasties':
 No Sodium Laurel Sulphate
 No coal tar
 No artificial colours or perfumes
 No petrochemicals
 Not tested on animals
 No mineral oils
Ingredients
 Aqua (Purified Water), Behenyl Trimonium Methosulphate*, Palm glycerin, Leptospermum Scoparium Mel (Manuka Honey),  Aloe barbadensis (Aloe vera), Cetearyl alcohol, Jojoba oil, Calendula officinalis (Calendula ext ), Centella asiatica (Gotu Kola ), Guar gum, Citric acid (Vit C), Glycyrrhiza glabra (Licorice root ),Vit E, dL-Panthenol (Pro-Vit B5), Phenoxyethanol, Benzyl Alcohol       
* Plant derived
Tried and Tested Testimonials
These quotes have been given to Hope's Relief over the years.
 Having suffered from a dry, flaky scalp and to a lesser degree skin, all my life, I had given up finding any product that made a significant difference and had become used to simply managing the situation with regular products. Now in my mid fifties - the condition was becoming worse. I came across Hope's conditioner and decided to try it.  It was so good, Thank you to the team at Hope's for putting such great quality products on the shelves. Suzanne Apps 
 It is great to find such a gentle & nourishing shampoo & conditioner that actually makes my hair soft & not like straw! Thank you & keep up the good work. Lauren Cooper
 I was delighted to discover Hope's Relief Shampoo and Conditioner. It relieved the itch almost immediately and saved my sanity. Beverley Smith
Always read the product directions before use. The information contained in this website is for general information purposes only and should not be regarded as a substitute for professional medical advice. Please consult your pharmacist of doctor if you have any queries about the suitability of the products.
---
We Also Recommend