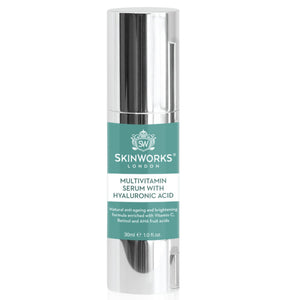 SkinWorks Multivitamin Serum + Hyaluronic Acid
£19.99

£19.99
Tax included.
Shipping
calculated at checkout.
---
---
A multifunctional serum designed to reduce the signs of ageing and promote a fresh and bright complexion
This ultra-light gel serum is absorbed immediately to deliver a concentrated dose of skin boosting nutrients. Our special multivitamin complex includes Vitamin C to fade age spots and blemishes and boost collagen, Vitamin A (Retinol) to tighten skin and reduce fine lines and Vitamin E for potent antioxidant protection.  AHA fruit acids support cell renewal by naturally exfoliating and improving skin tone and texture. Nourishing Hyaluronic Acid, Argan, and Rosehip oils penetrate deeply to help improve elasticity and reduce wrinkles.
With regular use the serum helps to revive dull skin and maintain a healthy and youthful complexion.
High purity and hypoallergenic
Ingredients
Aqua, aloe vera juice (aloe barbadensis), vegetable glycerin, apple extract (pyrus malus), melon extract (cucumis melo), evening primrose oil (oenothera biennis), rosehip oil (rosa rubginosa), seaweed extract (fucus vesiculosis), arnica oil, argan oil (argania spinosa), green tea extract (camellia sinensis leaf), vitamin A (retinol palmitate), vitamin E (Tocopherol), hyaluronic acid (sodium hyaluronate), vitamin C (sodium ascorbyl phosphate), tomato extract (solanum lycopersicum), fennel oil (foeniculum vulgare), passionfruit extract (passiflora edulcis), AHA fruit acid (alpha hydroxy acid), avocado oil (persea gratissima), carbomer, phenoxyethanol, ethylhexylglycerin.
DIRECTIONS FOR USE
Smooth over cleansed face and neck morning and night . Massage in until absorbed. Follow with a moisturiser. Use daily.
Why Use A Serum?
Its time to supercharge your skincare routine! A serum offers a more powerful dose of active ingredients in a lightweight base that penetrates deeper to deliver nutrients within the skin. It contains more actives than a cleanser or moisturizer and so offers numerous long lasting benefits for skin health.
Our Multivitamin serum is water based so should be used after cleansing to deliver powerful ingredients directly into the skin. . Designed to nourish, protect, and hydrate your skin, a face serum is a great next step before moisturising. Serums made up of smaller molecules that can penetrate deeply into the skin and deliver a very high concentration of active ingredients. This makes them a great tool for targeting specific skincare concerns, like wrinkles and dull skin.
Why choose Skinworks?
Our Multivitamin Serum combines skin brightening and anti-ageing ingredients to create a powerful but delicate everyday serum.
Developed to fight the first signs of ageing, this lightweight serum improves skin firmness, visibly toning while smoothing the appearance of fine lines and wrinkles. It hydrates for smoother, firmer, more radiant skin.
Benefits
Reduces hyperpigmentation
Reduce fine lines and wrinkles by improving hydration and moisturisation levels
Evens and brightens skin tone by reducing age spots, dark circles and fine lines
Improves the appearing of dry and damaged skin, redness and scaring
Moisturising
Smooths/flattens skin and improves elasticity
Collagen boosting
Antioxidant and anti-bacterial
Background to the formula:
Key Ingredients
Vitamin C helps restore radiance and provides potent antioxidant protection, shielding skin from daily damaging free radicals such as sun damage, pollution and oxygen. Vitamin C can also visibly reduce the appearance of hyperpigmentation and revive dull-looking skin
Hyaluronic Acid is able to penetrate the skin's upper layers to improve and benefit the skin when applied topically. Hyaluronic acid is a major component of skin, where it benefits tissue repair and protection. When applied in cream or serum, hyaluronic acid forms an air permeable layer and penetrates into the dermis, thus boosting the elasticity and hydration of the skin. The protective barrier on the skin locks in moisture, which gives the skin a youthful appearance.
AHA Fruit Acids
Glycolic Acid – A favourite with skincare professionals, its small molecular size means it can penetrate the uppermost layers of skin to reveal the better looking skin beneath. It hydrates the skin, improving moisture retention and firmness and softening the signs of sun damage.
Lactic Acid – Similar to glycolic acid in its action, Lactic acid works slower and lasts longer and is important for long term skin improvement. It is a good all round moisturiser.
Malic Acid – The most effective exfoliator. It has powerful antioxidant benefits and boost skin elasticity, used to treat problems with pigmentation, dryness and acne.
Citric Acid – Has been shown to stimulate collagen synthesis, the foundations of young and healthy looking skin. It also treats clogged pores and sun damage and has a great overall brightening effect.
Tartaric Acid – Best known for its anti oxidant properties tartaric acid is very gentle, it reduces redness and inflammation and has a cooling effect.
Aloe Vera naturally contains antioxidants, enzymes, Vitamins A and C, and it is highly anti-inflammatory. It can help minimise fine lines and promote elasticity to keep skin youthful. Aloe vera is beneficial to remove dead skin cells and moisturises helping skin to glow and stay supple.
Rosehip oil - helps to increase collagen production and stimulate fibroblasts, leading to youthful looking skin. Rosehip oil is also high in the essential fatty acids linoleic acid (omega-6), and linolenic acid (omega-3).
Vitamin A (Retinol) helps to speed up healing, prevent breakouts and promotes natural moisturising - which means it helps to hydrate the skin effectively, giving it a radiant glow. It has shown to help smooth fine lines, promote skin cell renewal and prevent pores from clogging.
Vitamin E Prevents the formation of wrinkles by blocking and repairing free radical damage. When applied to brown spots on the skin, it helps to lighten and smooth the rough skin by lubricating cell membranes and encouraging cell regeneration. It treats wrinkles by boosting collagen production, a connective tissue that keeps skin elastic. Vitamin E oil also treats wrinkles by supporting new skin cell growth.
Apple extract - high in antioxidants to protect your skin from free radicals, and to help it maintain youthful elasticity for longer
Melon extract – very rich in vitamin A, which helps increase the rate of new skin cell formation, and can also help with issues like scar tissue and stretch marks. The antioxidant and anti-inflammatory properties of melon extract can help restore the skin to a more vibrant, firm, and youthful glow
Evening Primrose Oil Linoleic acid which is found in evening primrose oil is an omega-6 fatty acid that promotes skin health by reinforcing the skin barrier, preserving water in the epidermis and regulating sebum production
Seaweed Extract  - to cleanse and detoxify skin whilst improve skin tone and uneven pigmentation
Argan Oil  - great moisturising and anti-ageing properties.  Argan oil is naturally high in  linoleic acid content which increases the skin's elasticity and tightens the pores
Tomato Extract  - helps protect against free radicals and reduce sun induced skin ageing
Avocado Oil – a rich source of nourishing vitamins and minerals which helps promote collagen production
Warnings: Store upright in a cool, dry place away from direct sunlight. For external use only. Avoid contact with eyes. A patch test is recommended.
---
We Also Recommend