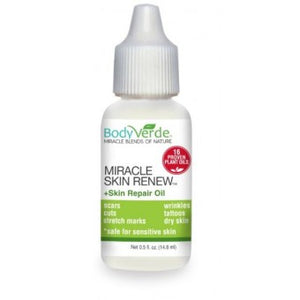 BodyVerde Miracle Skin Renew
£15.99

£15.99
Tax included.
Shipping
calculated at checkout.
---
---
One serum - hundreds of uses!  (15ml)
Nature's first aid and skin repair.  Miracle Skin Renew Serum is made from 16 of nature's most skin-friendly plant extracts. The ingredients help accelerate your body's ability to heal itself and generate new skin cell growth. Serum is rich with antioxidants known to help renew working hands, reduce under eye wrinkles, and provide quick repair and healing therapy to damaged skin.
Miracle Skin Renew Serum will protect and correct injured or aged skin. Hundreds of practical uses for adults and children.
Use to help heal:
Scrapes
Cuts
Working hands
Wrinkles
Chapped lips
Cracked skin
Scars
Diaper Rash
Dry scalp
Burns/Sunburn
Wounds
And much more!
Ingredients essential oils of: Sea Buckthorn, Soybean, Sesame, Jojoba, Coconut, Grape Seed, Meadowfoam, Borage,  Rosehip, Castor Bean, Andiroba , Shea, Avocado, Squalane, Wheat Germ and Hempseed.
Reviews
Miracle Renew Serum: Truly a Miracle in a bottle!
I've been using the Miracle Renew Serum as part of my beauty routine...using it under the Night Moisturizer and I've seen a marked difference in the look and feel of my skin. Feels and looks more plump (in a good way : ) and I notice that fine lines are definitely less noticeable. I figured since it's great on all types of skin conditions it would help with anti-aging as well and luckily I was right. I've also started using it on my son who sometimes gets skin rashes. It's really helped his skin as well. I love this product!
100's of uses
Amazing product. I use it for my kids when they get a scratch - because I don't want to add chemicals to them. Heals quick! I use it for under my eyes - and at 40, there isn't a wrinkle in sight! I even use it for diaper rash on my son - when the regular creams aren't enough, this works within 2 hours. Amazing product!
---
We Also Recommend