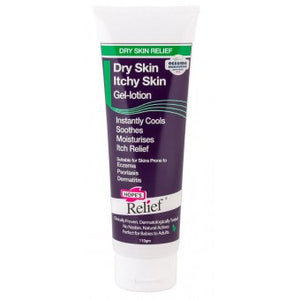 Hope's Relief Gel-Lotion (Vegan)
£17.49

£17.49
Tax included.
Shipping
calculated at checkout.
---
---
Hope's Relief Gel-Lotion (110g)
Hope's Relief Natural Gel-lotion instantly calms skin whilst penetrating deep to moisturise dry and itchy skin. Skin feels cool and soothed instantly making it ideal for babies and children to help calm irritated and itchy skin. Hope's Relief Gel-lotion Contains Natural Aloe Vera plus 6 Additional Natural Skin Moisturisers and Anti Itch Ingredients including Sea Buckthorn , Marshmallow Root and Chamomile.
The unique hybrid formulation combines the instant cooling effect of a gel with the moisturising and nourishing properties of a lotion. Ideal for skin prone to eczema and psoriasis to give instant cooling plus moisturising to the lower layers of the skin.
Developed by naturopaths, Hope's Relief Gel-Lotion is free from skin irritating nasties including steroids, fragrances, SLS, parabens, paraffin, lanolin and petrochemicals.
User Stats
95.5% if people said their skin felt more hydrated after using Hope's Relief Gel-Lotion
95.5% of people said they would recommend Hope's Relief Gel-Lotion
100% of people who identified as having 'dry or itchy skin' said that Hope's Relief Gel lotion did ease their skin condition.
Testimonials
"The gel lotion soothed the itching almost immediately, and I have seen my skin improve every day."
"Very relieved, with no itching whatsoever, left my skin so soft too"
"My skin was dry, flaky and itchy. It actually relived the itch and over time and the flakiness went away"
"I had itchy skin prior to the trial and it improved within a day. Very surprised and happy with the results."
7 active natural ingredients to help relieve itchy and irritated skin
Aloe Vera: Nature's miracle plant which penetrates every layer of the skin releasing moisture and hydration into the skin
Marshmallow: Known for its' anti-inflammatory properties, Marshmallow minimises irritation
as well as improving wound healing processes and encouraging skin moisture levels
Sea Buckthorn: For intense hydration Sea Buckthorn boasts the main moisturising essential fatty acid Omega 7 Palmitoleic acid. Palmitoleic acid is a natural component of skin. The concentration of Omega-7 in Sea Buckthorn is up to 40% , over twice that of macadamia oil.
Calendula: Assists in the skin's ability to repair and reduces inflammation. Contains antiseptic and anti-fungal properties.
Chamomile: This calming ingredient contains acidic, essential oils and flavonoids known to have anti-allergenic Properties
Glycerin (Vegetable Base): Glycerin is used as it is a humectant, a substance that draws moisture into the skin and enhances the delivery of the active ingredients within the formula
Vitamin B5: Vitamin B5 is known to speed wound healing, making it ideal in promoting skin regeneration
Directions for use
Apply 3-4 times daily or as needed
Ingredients
Aloe Vera, Aqua, Glycerol, Calendula, Chamomile, Sea Buckthorn, Marshmallow Root, Phenoxyethanol, Vitamin B5, Benzyl Alcohol, oat Oil, Marshmallow Root, Benzyl Alcohol, Abyssian Oil, Xanthan Gum.
---
We Also Recommend