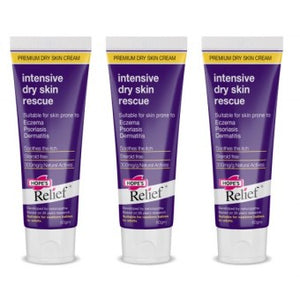 Hope's Relief Cream Saver Pack
£48.99

£48.99
Tax included.
Shipping
calculated at checkout.
---
---
Hope's Relief Cream - Multibuy Saver (Enter 1 in quantity above to place 3 creams in basket) Buy 3 Hope's Relief Cream and save £9.48 (Now £14.33each)
**Please note Promotional Codes not valid on saver packs
Click here to read some of our success stories
Hope's Relief Intensive Rescue Cream 
This all-natural cream was developed by Melbourne Naturopath Jacqueline Hope in response to the need for a natural, effective alternative for relieving the symptoms of dry skin. Cooling and soothing, it is suitable for those prone to eczema and dry, itchy skin conditions and helps to keep skin moisturised. Because there are no petrochemicals or other toxic ingredients to be absorbed through the skin, it is suitable for use on babies, children and adults for extended periods with no harmful side effects.
Long-lasting barrier function
Specially formulated to nourish deep down and help repair your skin's natural barrier. Hope's Relief rehydrates skin, leaving it feeling smooth and supple
Because it penetrates beneath the skin's surface, Hope's Relief cream provides a longer-lasting protective barrier than other creams or lotions. It doesn't wash off in water, soak into clothing or otherwise lose effectiveness. 
Suitable for delicate baby skin
Baby skin can absorb and loses moisture at a faster rate than more mature skin. For babies and children with itchy, dry skin who are prone to eczema, Hope's Relief offers a natural solution to protect delicate skin and keep it healthy, soft and supple. 
A little goes a long way
The cream is highly concentrated, so a little goes a long way. It is non-staining, quickly absorbed with no greasy residue, and leaves the skin feeling soft and supple.    
 Soothes and protects skin.
 Helps ease the itch and heal skin.
 Specially formulated for those prone to eczema, psoriasis and dermatitis
 Natural proven anti bacterial properties.
 Non-staining and quickly absorbed into the skin with no greasy residue. 
 Can be safely used on babies, children and adults for extended periods  
Click here for more before and after pictures
Thank you! Purchased my first tube of cream and soap last week. I have tried EVERYTHING!! Nothing was working.  I am so happy to have come across something that actually works!  Mrs S.K. Pasquale,
Thank you, thank you, thank you so very much!  Ms S Bathurst
Hopes Relief ! Will love you forever - thanks :-)  Ms K. Morgan
Hi, just wanted to say thanks for coming up with the Hope's relief cream. I am 28, has suffered from dry skin since birth.My mum gave me a pot of your relief cream 2 weeks ago. it is by far the most successful cream I have found, and the results were apparent within 24 hours. I find that so many of the other creams I have tried were really harsh on my skin, greasy and impractical. I can just use this cream and carry on working without getting my mouse all covered in goo. Thank you. Peter
 After trying nearly every cream, lotion etc. on the market I discovered Hope's relief cream in my local health store and I am thrilled to report that dry skin I had on my upper arms have now almost gone and I can once more wear short sleeved tops. Thank you so much. Mrs. H. Walker
 Hi, Just over a week ago, I bought a jar of your cream. I have had a few patches of dry skin for around 37 years - my elbows, knees particularly. I had to write and tell you that within a few days, all these areas showed remarkable change. Thank you for putting such an wonderful product on the market. Sue
 I just wanted to sing the praises of your fabulous cream, my 4 year old daughter has suffered with dry skin for the last 3 winters and we have used cream after cream and to no avail. A friend recommended this cream and after just a week the difference in her skin is amazing. THANKYOU from the bottom of my heart for coming up with such a fantastic product. Angela Beynon
Always read the product directions before use. The information contained in this website is for general information purposes only and should not be regarded as a substitute for professional medical advice. Please consult your pharmacist of doctor if you have any queries about the suitability of the products.
---
We Also Recommend